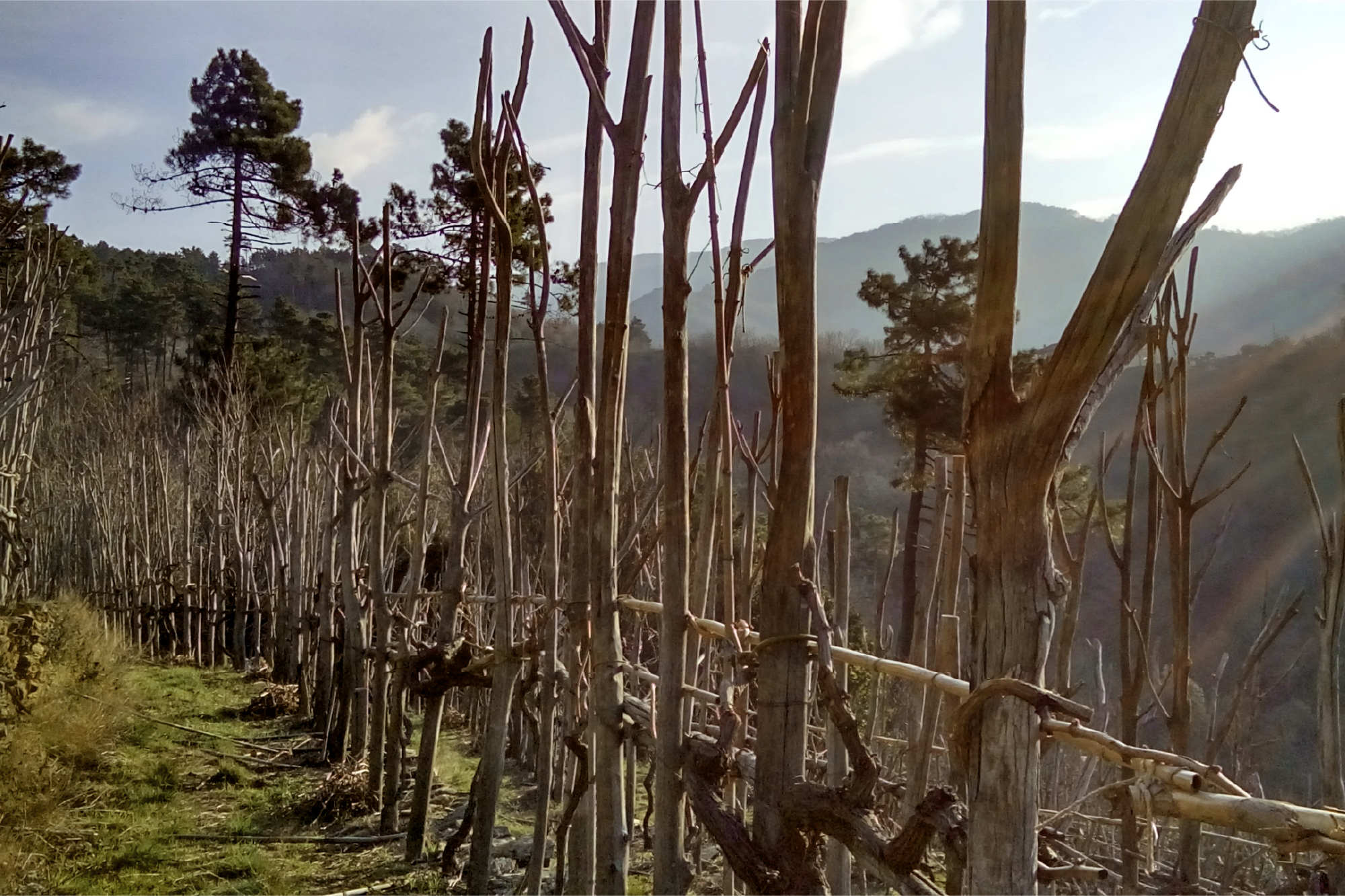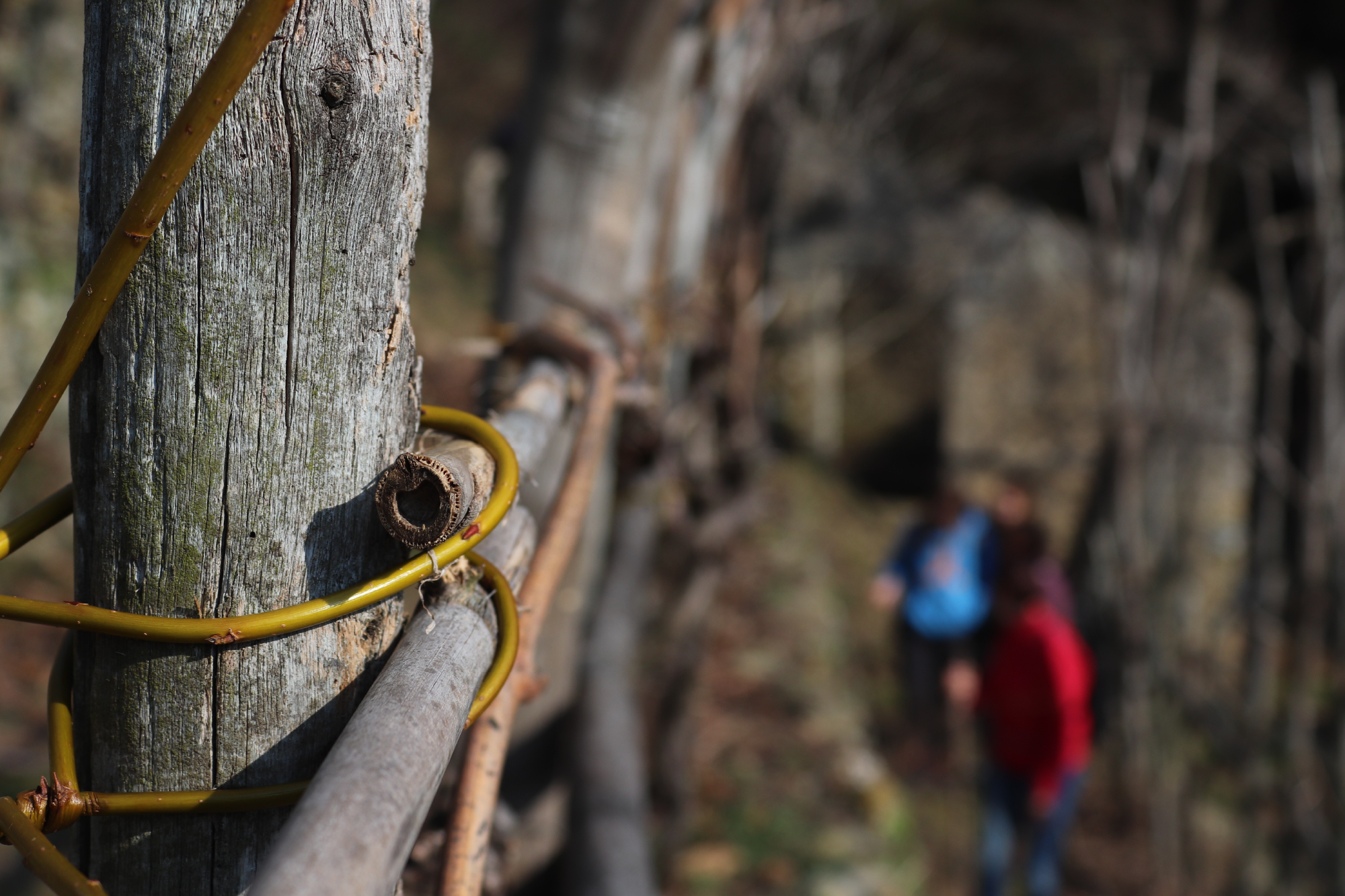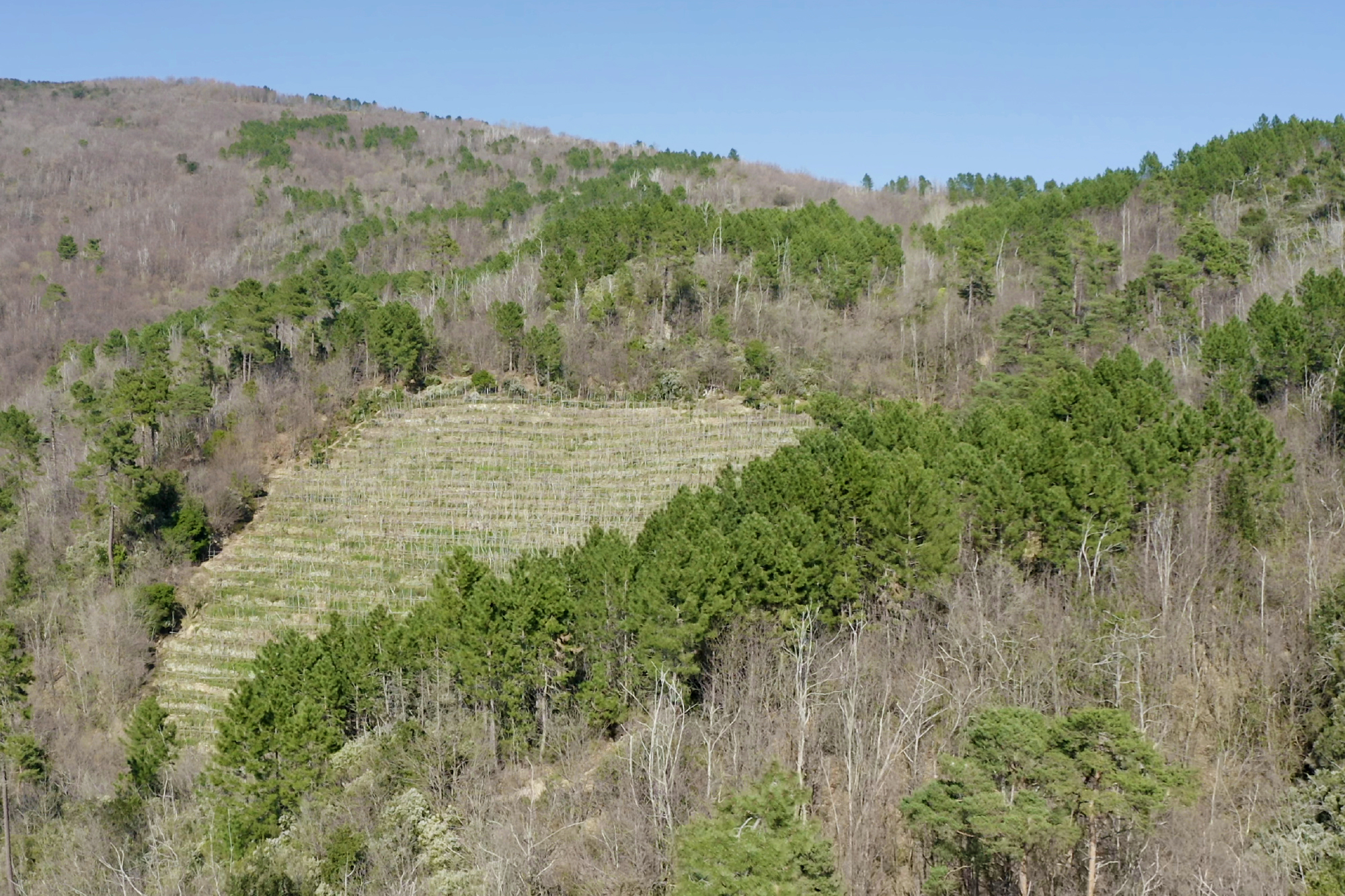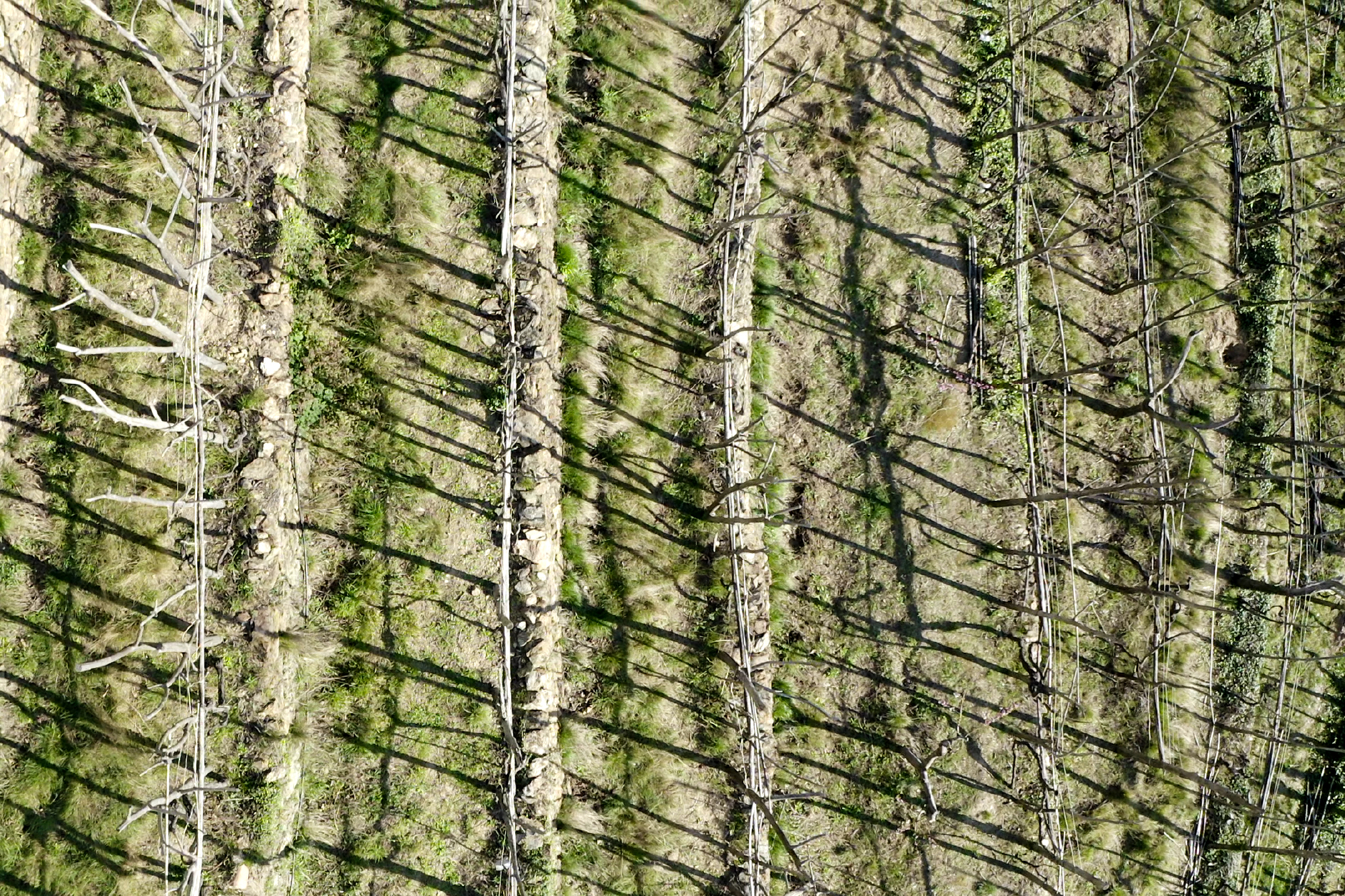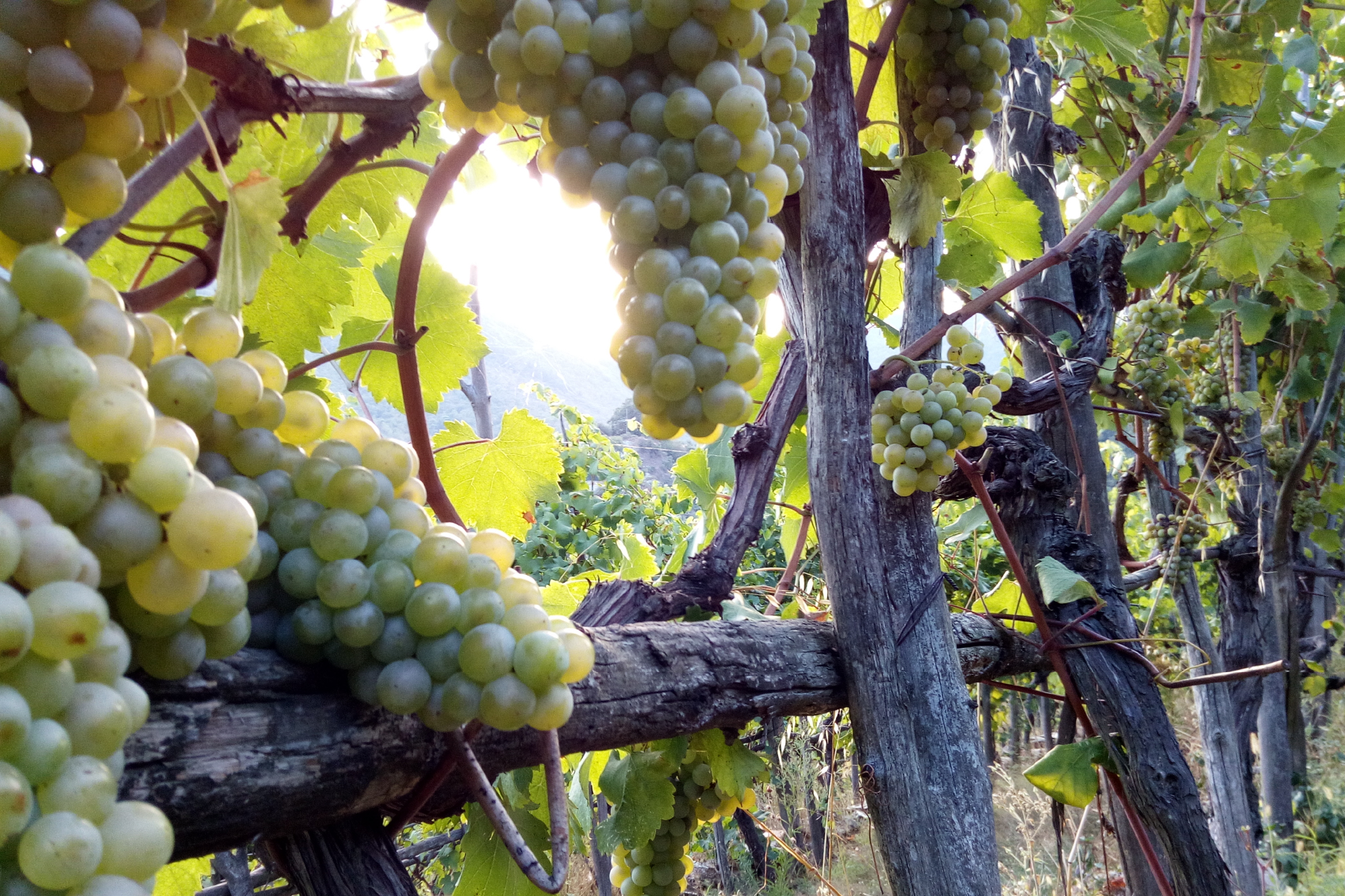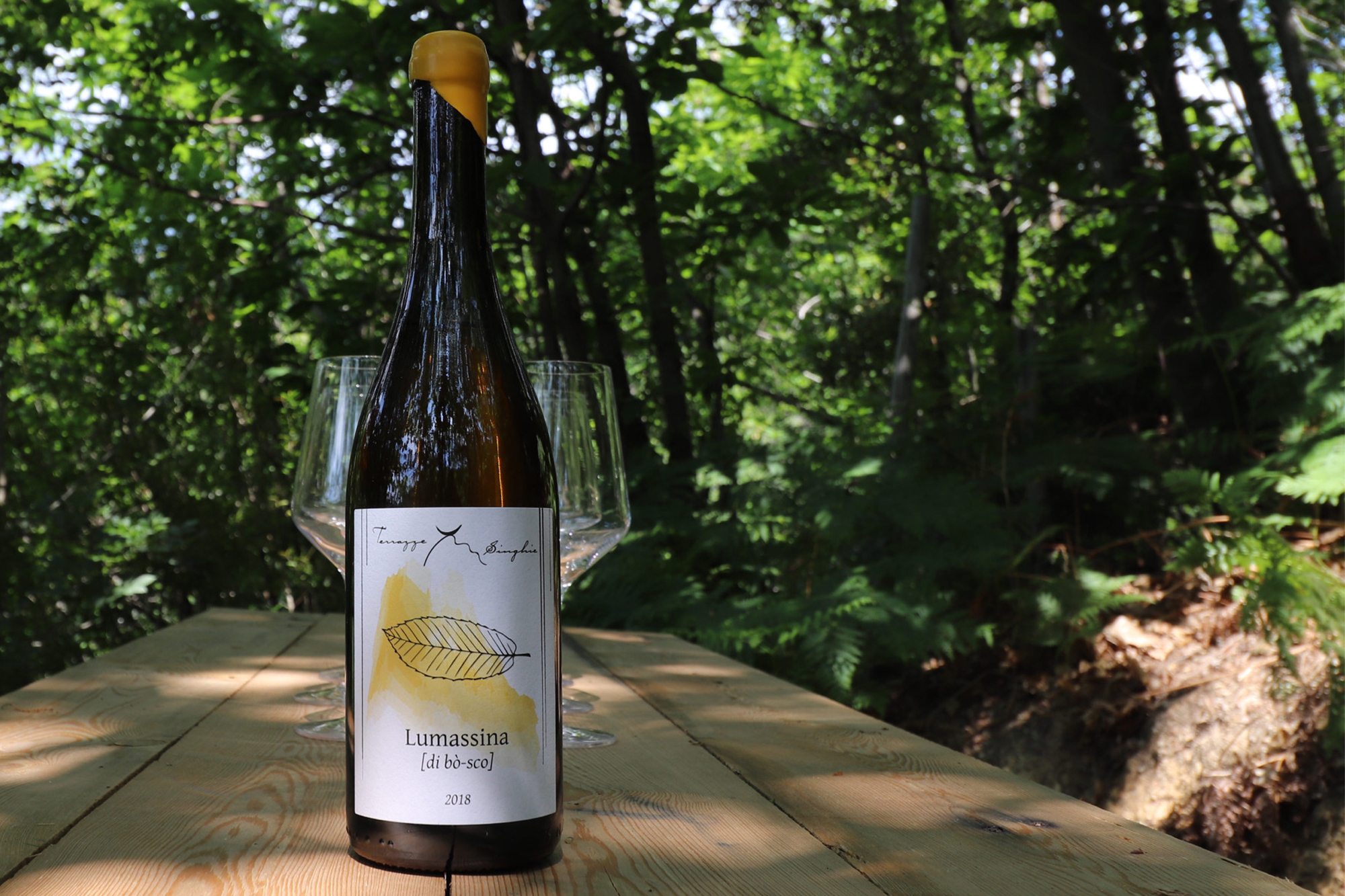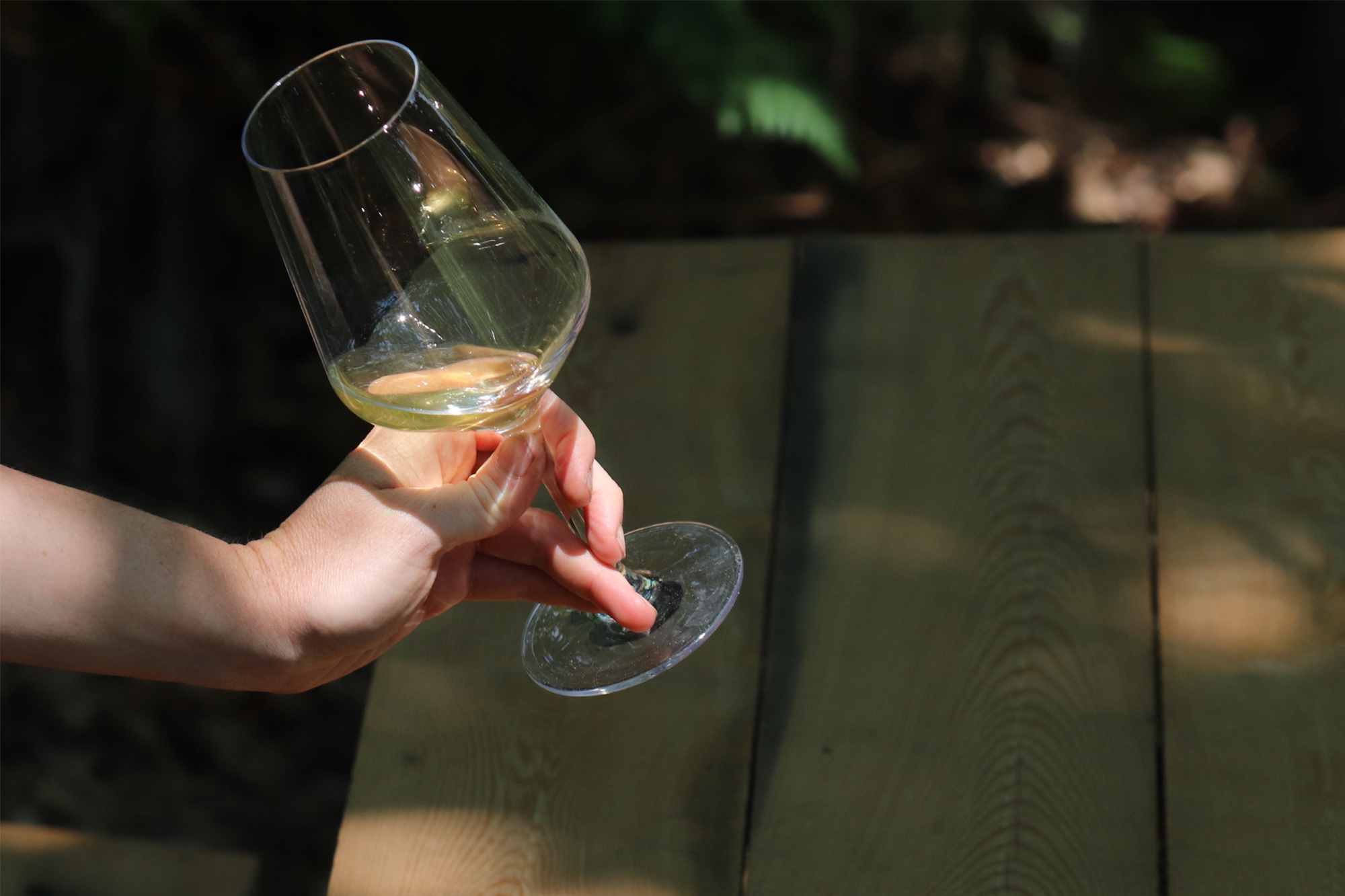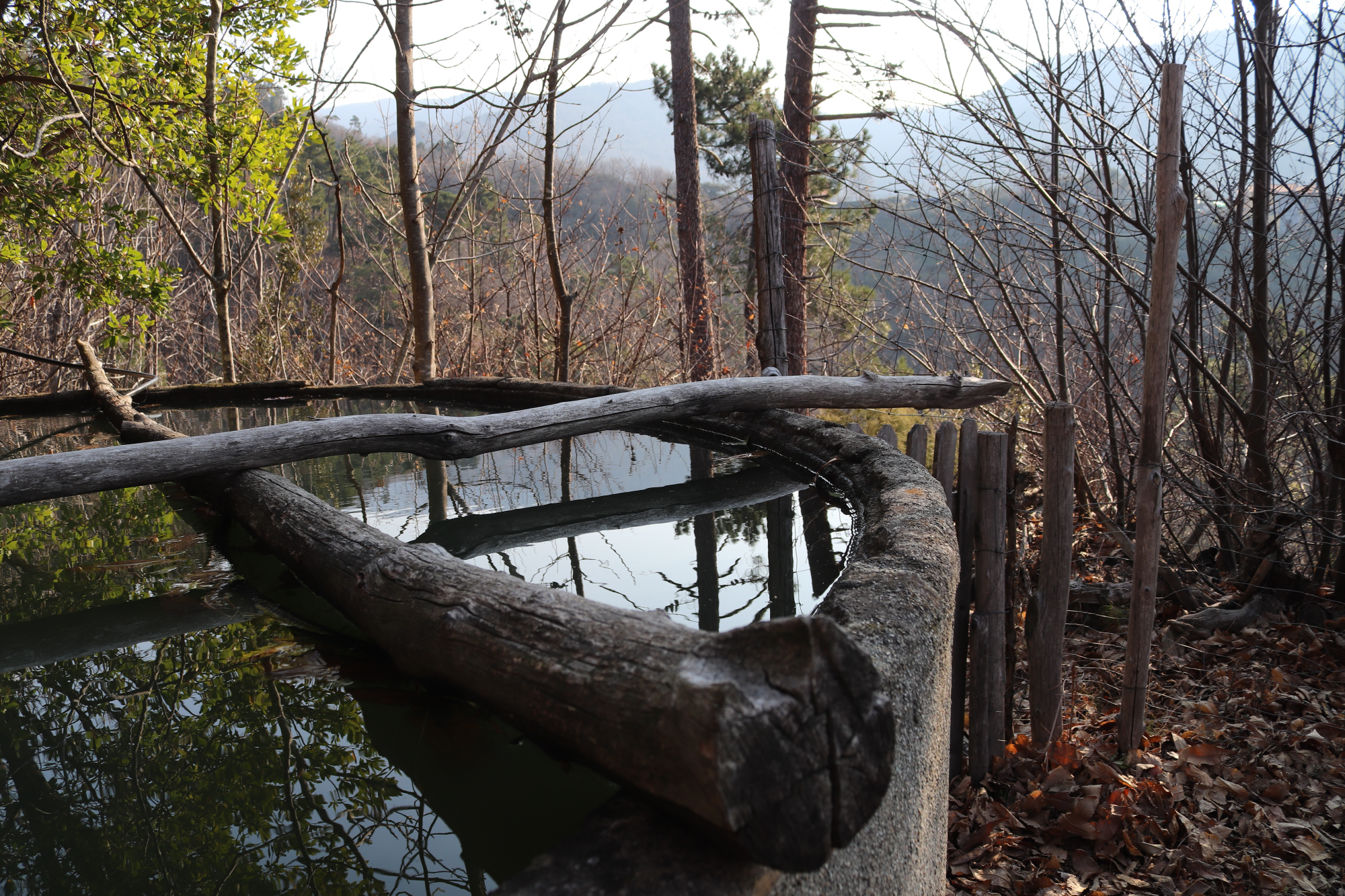 "Una foresta immobile, pietrificata, pallidi pali di castagno si ergono dai terrazzamenti come un silenzioso esercito che veglia sul sonno della vite.
Gendarmi retti da generose pietre che scolpiscono l'irta collina in dolci terrazze"
The project
Terrazze Singhie was established in 2017 and was inspired by Sara Polo and Mauro Migliavacca's passion for organic viticulture and natural wine.
After many years spent gaining experience and knowledge travelling the world of wine, both in Italy and internationally, they were fortune to discover a small hidden jewel surrounded by historic dry-stone walls in the town of Orco Feglino, Liguria.
Their belief that the geographical and historical characteristics of Liguria's terroir can create unique wines; their desire to preserve a centuries old vineyard, and their belief that Lumassina, an autochthonous grape variety found in only three valleys in the Savona area, can yield an exceptional, authentic wine, made this vineyard the perfect match.
Vineyard
The south-west facing vineyard is located 300 metres above sea level on a splendid terraced hill in the beautiful Orco Feglino region of Liguria.
The twenty-nine sloped terraces are surrounded by twenty hectares of heather and wild forest. This rolling landscape is filled with chestnut, pine, oak, strawberry, and ash trees. The sandy loam soil in which our grapes grow is rich in stones and rocks which allow for optimum water flow. Our light skinned Lumassina grape variety is indigenous to the Savona region, and one of its historic cru can be found in Feglino.
Our centuries old vineyard pays homage to the viticultural history of the area and uses traditional methods and local resources. The Ambrustin structure used is typical of the Finale area and is created using chestnut poles taken directly from the surrounding forest and tied together with willow branches.The dry-stone walls which make this hill cultivable are made of local stone. The density is around 3500 plants per hectare and the vines are espalier-trained.
Agricultural techniques
In our vineyard everything we do follows the principles of organic farming. All treatments are natural using sulphur, copper, decoctions of plants, micro-organisms and biodynamic preparations. Every task in our vineyard is painstakingly completed manually, from pruning to harvest.
In order to minimise the impact of vineyard monoculture within the surrounding ecosystem we strive to create a balance in biodiversity. Peaches, apricots, and cherries all grow within the vineyard and the landscape is left to flourish.
More than 200 species of plant cover the terraced rows throughout the year, fighting rain erosion during autumn period and keeping the soil moist during summer.
From grape to wine
Our grapes are the result of a year of love, hard-work, dedication, and above all, respect for nature in our vineyard. Our philosophy of organic farming is carried through to our winemaking process, the journey of our grapes from vine to wine is done in the most natural way possible.
We harvest our grapes between the end of September and the middle of October. In the period before we harvest, we carry out strict quality control measures looking for the perfect balance between sugars and acidity. To give the wine a greater aromatic complexity we harvest the grapes at different moments in the ripening process. For this reason, several micro vinifications are carried out in our cellar. During this process 500 litre containers are used, and maceration lasts for ten to twenty days.
All of our fermentations use natural yeasts naturally on the grape skin. After fermentation, the wine is aged in 225 and 500 L oak barrels, on lees. After 9/11 months, with the complete development of the malolactic fermentation, which takes place in late spring, the wine is ready to be bottled, without filtration or clarification. For our Lumassina di bosco we only use one-piece natural cork stoppers
Lumassina di bosco
Our Lumassina di Bosco has a golden, crystalline colour with opalescent notes. The nose gives hints of flint, yellow golds, Scotch broom, elderberry and orange blossom with notes of chestnut honey and nashi pears. The mineral undertones evolve from flint to salty and slate. On the palate, our Lummasina di Bosco is fresh, and fruity with a good acidity. Intense but not overpowering. Our wine pairs well with pasta, fish and white meats but can also be enjoyed alone.
The recommended serving temperature is around 15 degrees.
Technical data
Name   Lumassina di Bosco
Variety   Lumassina
Appellation   Lumassina I.G.T. Colline Savonesi
Region   Liguria
Vintage   2018
N° bottles   2936
Soil   Sandy loam rich of stones
q/ha   50
Plants/ha   3600
Altitude   300 m
Harvest time   end of September
Winemaking   Natural yeast 15 days skin ferment
Ageing   9/11 months in oak barrel on lees
Alcohol content   12%
SO2 total   28 mg/l
Winetasting
Come and visit us in our vineyard!
Call us to book a visit to the vineyard in the forest.
Try our wine where it is actually born...on our terraces.
We will lead you on a little trek through the scenic forest and tell you about the history of the surroundings, and about our project.
When you reach the vineyard you will have a seat at our tasting table, under the shade of chestnut trees and enjoy a bottle of our Lumassina. Surrounded by 20 hectares of forest you will enjoy the peace and tranquillity of nature followed by a walk through the terraces to see how our wine is grown.
Tasting is for a minimum of 2 people for a duration of 2 hours. We recommend comfortable clothing and footwear for the trek.
Contact us for info and prices.
Contacts
Az. Agr. Terrazze Singhie
Vineyards: Località Castagnassi - Orco Feglino (Sv)
Wine cellar: Via Tommaseo 8 - Carcare (Sv)
+39 339 536 4835
+39 380 899 6853
info@terrazzesinghie.it